Landing Page – Psychology of Conversion
Social Proof
Try before you Buy
Urgency and Scarcity
Social Proof
Social proof is often communicated with the statistics and actions of a particular crowd and it can greatly enhance the "me too" factor.
A great demonstration of social proof can be seen in a real-world experiment called the "Man looking skyward".
In 1969, a study by S. Milgram, L. Bickman and L. Berkowitz, was performed on the streets of New York City in which a man was standing looking up in the air. The goal of the experiment was to see if social proof played a part in the reactions of passersby.
| One man looking up | A crowd of people looking up |
| --- | --- |
| | |
| For the single man standing in the street, the study showed most people would walk past him and not pay any attention to what he was looking at. | When the group of staring people increased to five, people started reacting by joining in and looking up to see what was going on. Finally, increasing the participants to 18 people resulted in a 400 per cent lift of people stopping to join the crowd. |
Add compelling testimonials
One of the best ways of building social proof on a landing page is to show some powerful testimonials from your clients or experts that are using your product or service. These should be short and to the point, and should ideally include a photo of the person giving the testimonial to make it more authentic. To take this a step further, try adding video testimonials – these are highly engaging and very convincing.
The best testimonials tend to describe the resolution of a specific pain, describing how your offering solved it for them.
UserTesting.com uses favorable tweets to build credibility. Tweets are a smart way of showing social proof as the person giving the testimonial can easily be confirmed as legitimate with a quick search on Twitter.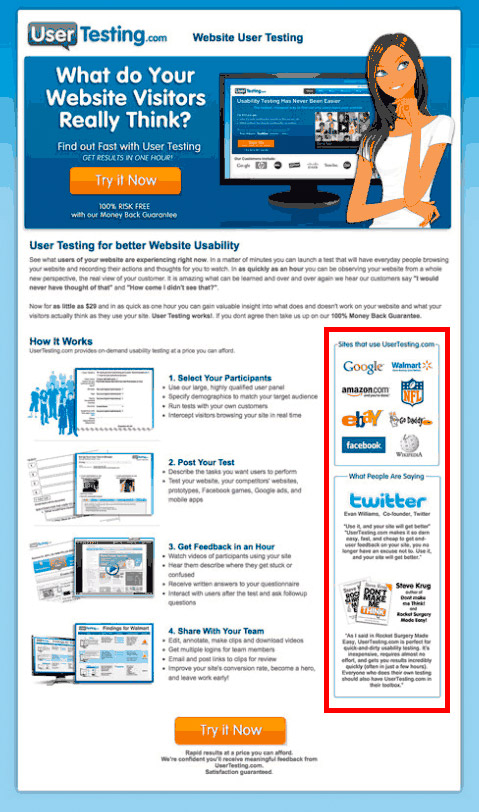 Text vs. video testimonials
An example of the power of video, Unbounce ran an A/B test on their homepage to determine whether a video testimonial performed better than text testimonials. The video testimonial produced a 25% increase in the number of people starting a free trial.
Page A – Text testimonials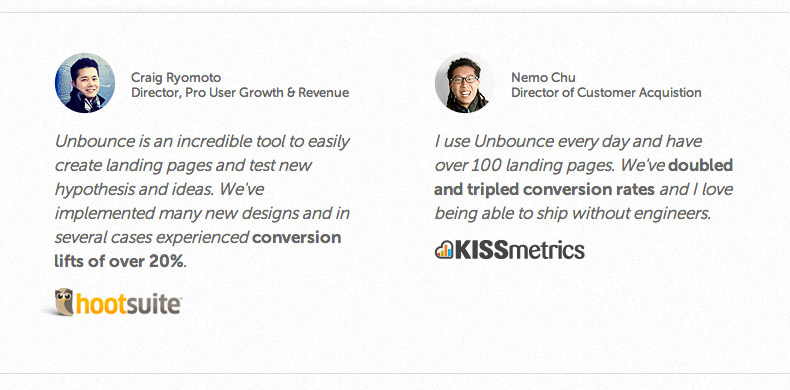 Page B – Video testimonial – 25% conversion lift

Add logos of your clients
Prove that you have many good clients already and prominently show the logos of them on your landing page. This works particularly well if you have clients that your target market admires.
Take a look through your existing clients and find ones that are the most well-known. When adding them to your landing page don't forget to include a compelling headline for the section.
KissMetrics do this well, using the phrase "Trusted by some of the godfathers of the modern internet" to introduce the logos. This is a very attention grabbing statement. As with many page elements, it's important to test this against different phrases to see which resonates most with your visitors.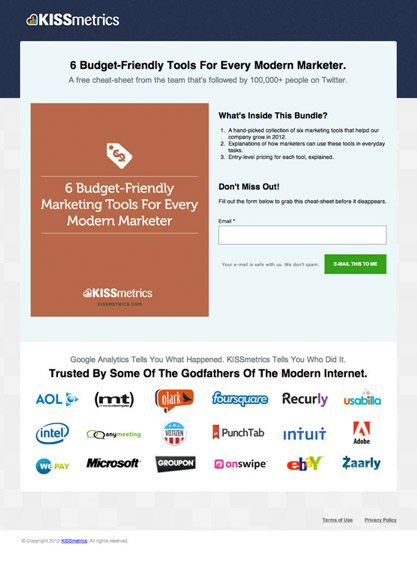 Show great usage numbers
If you have relevant numbers that prove your credibility, use them. Consider how the message on McDonalds '99 billion served' sign is. You could display the number of clients you've served, downloads of your product, or years in operation. Don't be shy about proving that people love using your services or products!
To uncover some original ways of stating usage, have a brainstorm with different functional groups in your company. You never know who will have that all important stat.
99designs.com does a great job of showing compelling usage numbers at the top of their landing page. They highlight how many people have used their services, how many designers they have, and how much money has been awarded.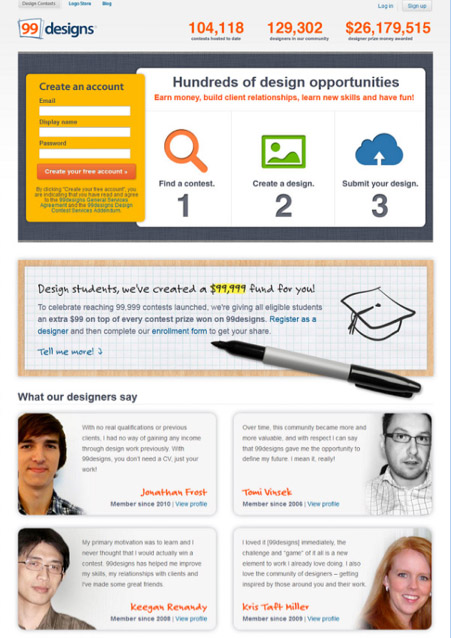 Add awards/media mentions
If you've had great coverage in the press about your product or service, or you have won awards (things like "Editor's Top Pick"), you can boast about this on your landing page. Again, you should include a descriptive headline for the section to capture the eyes of scanning readers.
Try Before You Buy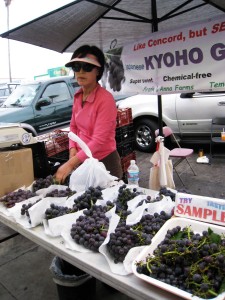 One of the most common real-world examples of 'Try Before You Buy', is when people sneak a quick taste from a bunch of grapes in the supermarket. We've all done it. It seems to have become an internationally recognized form of acceptable thievery.
As a conversion centered marketer, you can learn from this by allowing your visitors to see a preview of your offering before committing to a purchase/download.
In the example shown, the grape stall owner has gone the extra mile to provide a section devoted specifically to grape samples (the preview), which demonstrates that the seller is providing a quality product – which you can verify by consuming the preview.
TAKE AWAY
Let people sample your offering before they have to commit to a decision. For content like an ebook, copy Amazon with their "Look Inside" concept – perhaps with the first chapter. You can also use a Slideshare presentation to provide a preview and also to have a second channel of content on Slideshare.net.